"The best unspoiled travel destinations in the world" this is what the National Geographic Magazine has named the fjords; the deep saltwater along the narrow western inlet coast of Norway with steep sides, which is often formed by glacial actions, it is also featured on the UNESCO World Heritage list and considered to be one of the Seven Wonders of Nature.
It is certainly a heaven for hiking lovers; walking in some of the most beautiful and wild mountains in the world, with a view of mountains, fjords, peaks, rivers and waterfalls on all sides. Moreover and as it is deep water it can also be seen closely by ships where the sea penetrates deep into the mountain wilderness and one can enjoy a lot of water activities.
This beautiful country brings with its beauty a responsibility that weighs heavily upon Norwegians, their love for the natural world that affected the national character. In addition to their rich heritage starting from the Vikings with their reputation as raiders, but also traders, explorers and settlers till defining their role and place in the current world.
Geography
Norway officially the Kingdom of Norway, is a Nordic country in Northern Europe occupying the western portion of the Scandinavian Peninsula.It shares borders with Sweden; Finland, Russia & Denmark . The capital city of Norway is Oslo.Norway has a total area of 385,252 square kilometres and a population of about 4.9 million. It is the second least densely populated. (to make it easier to imagine, Egypt is 1,002,850 square kilometers where as the population is 80 Million).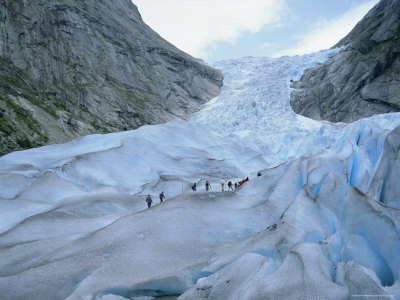 Much of the country is dominated by mountainous or high terrain, with a great variety of natural features caused by prehistoric glaciers The most noticeable of these are the fjords. The longest is Sognefjorden at 204 kilometres, the world's longest. National Geographic has listed the Norwegian fjords as the world's top tourist attraction.
Some History
Ancient Norway
The first people arrived in Norway after 7,000 BC when rising temperatures after the end of the last ice age made the country habitable. About 200 AD they started using a form of writing called runes.
Viking Norway
During the 9th century Vikings from Norway raided Scotland, England, Ireland and France. They even raided as far south as Spain, which at that time was in Muslim hands.
Norway in the 19th Century
The population of Norway grew rapidly in the 19th century. At the beginning of the century it was only 883,000 but by the end of the century it had reached 2,240,000. Nationalism in Norway grew. The Norwegian parliament or Storting passed a law, which stated that members of the government must take part in debates in the Storting. The Norwegians decided to impeach the entire government and the king was forced to give in. From then on Norway was a parliamentary democracy.
In 1397, Norway was absorbed into a union with Denmark that lasted for centuries & it wasn't until the 19th century that the 1905 referendum granted Norway independence. Norway remained neutral in both World War I & World War II, but was nonetheless occupied for five years by the Third Reich. In 1949, neutrality was abandoned and Norway became a member of NATO. Discovery of oil and gas in adjacent waters in the late 1960s boosted Norway's economic fortunes. In referenda held in 1972 and 1994, Norway rejected joining the EU. 
Some Facts and Figures
Head of StateHis Majesty King Harald V of NorwayHead of GovernmentPrime Minister Jens StoltenbergGovernmentUnitary parliamentary democracy and constitutional monarchyArea385,199 km²Population (estimated 2011)4,980,600
Ranked 116th CountryDensity (Population per km² land area)12.5 capita/km2
Ranked 213th CountryCapital CityOslo (GPS: 59°56′N 10°41′E)Official LanguagesNorwegian (Bokmål and Nynorsk. In some districts, Sámi is also an official language)Recognized (but not official) LanguagesNorthern Sami, Lule Sami, Kven and Southern SamiEthnic Groups81% Norwegians (North Germanic people), 2% Sami, 17% otherState ChurchChurch of Norway (Evangelical Lutheran)GDP (nominal) by 2010 as per IMFUS$ 414,462 (millions)
Ranked 25th CountryGDP per capita (nominal) by 2010 as per IMFUS$ 84,444
Ranked 2nd in the world after Luxemburg and before QatarCurrencyNorwegian Kroner (NOK)
Krone = 100 øre
1 NOK = 1.10 EGP (as of 2011-8)Constitution Day17 MayPopulation Growth (2008)1.3%Average Life Expectancy (2008)female: 83 years
male: 78 yearsHuman Development Index (HDI) by 20100.938 (very high) and Ranked 1st Country in the worldDrivingon the right of the roadTime ZoneCET (Central European Time) = GMT/UCT+1
Summer (Mar-Oct) is at GMT/UCT+2 and equal to Egypt'sCountry Phone Dialing Key+47Highest peakGaldhopiggen 2469 mRelation to EUNot part of EU nor Euro zone.
part of European Economic Area (EEA) agreement
part of Schengen visa zoneAdministrative Divisions19 regions called fylker (county) and 433 kommuner (municipality)
Tourism in Norway
The perception around the world of Norway still concentrates on the fact that it is cold, expensive and has beautiful fjords.
In 2010 a total of 4.8 million foreign guests stayed overnight in Norway, while 1.4 million were on a day trip from abroad.
Of those who stayed overnight in Norway about 1.06 million were on business trips and 3.70 million on holiday trips. Overall overnight visitors spent a total of 31.3 million guest nights in Norway. Business travellers accounted for 5.3 million of those guest nights, and tourists for 26.1 million. The business traffic was relatively evenly distributed over the year, while 70 per cent of holiday guest nights took place during the summer season (May to September). It's worth noting that approximately 25% of the Summer tourists are accomodated in their friends' homes.
Winter
Approximately 378,000 ski tourists came to Norway on their winter holidays in 2010. About 48 per cent of all overnight guests were on a skiing holiday. This corresponds to around 2.3 million guest nights spent in Norway by foreign skiers. On average, the German ski tourists stayed in Norway more than two days longer than ski tourists from Sweden and Denmark. Among ski tourists 73 per cent of guest nights are spent in either rented, borrowed or owned cabins. About 20 percent of nights are spent in hotels or guest/boarding houses, while only two per cent are spent with friends or relatives.
Summer
Overnight stays with friends and relatives (24 percent of guest nights) have nearly surpassed hotels and guest houses (20 + 5 per cent) as the most common form of accommodation during the summer measured in shares of guest nights. About 23 per cent of nights were spent camping at or outside of commercial camping sites.
Rented, borrowed, or owned cabins were used a bit more (19 per cent) compared to the previous summer (17 per cent). Three per cent of all foreign overnight stays were made on board the Hurtigruten coastal ship express, which was the same share as in 2009 and 2008.
The most common form of overnight accommodation for holiday visitors was staying with friends or relatives, which comprised 26 per cent of all guest nights. Camping, either in camping cabins, tents, motor homes, or in caravans – on or off commercial camping grounds – was the second most used form of accommodation. This category accounted for 25 per cent of overnight stays. Another 23 per cent of guest nights were spent in hotels or guest/boarding houses, which is a slightly higher share than in 2009 (22 percent).
Around 18 per cent of the overnight visitors interviewed in the summer stated their travel purpose as visiting friends, while nine per cent were visiting relatives. About half of the respondents stated they were on some other form of holiday travel. Three per cent indicated that they were visiting a seminar, business course, or conference, while one per cent were on a congress or meeting, and eight per cent on some other form of business travel.
Culture
An ardent promoter of human rights, Norway is home to the annual Oslo Freedom Forum conference, a gathering described by The Economist as "on its way to becoming a human-rights equivalent of the Davos economic forum.
Norwegians are registered at baptism as members of the Church of Norway; About 79.2% of Norwegians were members of the Church of Norway as of January 1, 2010. However, only 20% of Norwegians say that religion occupies an important place in their life ,the fourth-lowest such percentage in the world. Among non-Christian religions, Islam is the largest, representing about 1.5% of the population.
The North Germanic Norwegian language has two official written forms, Bokmål and Nynorsk. Both of them are recognized as official languages. The main foreign language taught in Norwegian elementary school is English. The majority of the population are fluent in English, especially those born after World War II.
The number of Americans of Norwegian descent living in the U.S. today is roughly equal to the current population of Norway. In recent years, immigration has accounted for most of Norway's population growth, Immigrants come from Poles, Swedes, Pakistanis, Iraqis, Somalis, Germans, Vietnamese, and Danes.
Pakistani Norwegians are the largest non-European minority group in Norway, and most of their 31,000 members live around Oslo. The Iraqi immigrant population had lately increased.
Myths 
A funny and interesting part of Norwegian folklore is "Trolls". The ugly and messy creatures that usually live in caves or deep in the forest, and only emerge from their hiding places after sunset. if you are a Harry potter fan you will probably like to hear about their legends.
Climate
The southern and western parts of Norway experience milder winters than the southeastern part. The lowlands around Oslo have the warmest and sunniest summers but also cold weather and snow in wintertime. Because of Norway's high latitude, there are large seasonal variations in daylight. From late May to late July, the sun never completely descends beneath the horizon in areas north of the Arctic Circle "Land of the Midnight Sun", and the rest of the country experiences up to 20 hours of daylight per day. Conversely, from late November to late January, the sun never rises above the horizon in the north, and daylight hours are very short in the rest of the country.
Economy
Currency is Norwegian Krone (NOK) : 1 NOK = 1.10182 EGP. Export revenues from oil and gas constitute more than 20% of the GDP. Norway is the fifth largest oil exporter and third largest gas exporter in the world, but it is not a member of OPEC. 
Norwegians enjoy the second highest GDP per-capita (after Luxembourg) .Today, Norway ranks as the second wealthiest country in the world in monetary value, with the largest capital reserve per capita of any nation. Norway maintains high rank in the UNDP Human Development Index (HDI)
Cost of living is about 30% higher in Norway than in the United States. The standard of living in Norway is among the highest in the world. The Norwegian economy is an example of a mixed economy, a prosperous capitalist welfare state featuring a combination of free market activity and large state ownership in certain key sectors. 
Politics
Norway is a unitary parliamentary democracy and constitutional monarchy, with King Harald V as its head of state and Jens Stoltenberg as its prime minister. Although having rejected European Union membership in two referenda, Norway maintains close ties with the union and its member countries, as well as with the United States. Norway remains one of the biggest financial contributors to the United Nations, and participates with UN forces in international missions, Norway is a founding member of the United Nations, NATO, the Council of Europe, and the Nordic Council, a member also of the European Economic Area, the WTO, the OECD and is a part of Schengen Area.
Where To Go in Norway
Although the western coast is very famous; but Norway is very rich country with its diversity. And beside the western part it also consist of northern, eastern central and southern regions each one with unique features.
Northern Norway is known for wildlife safaris, midnight sun during summer when the sun never sets. And northern lights or the aurora borealis as they are also known; which is a common natural phenomenon that is most frequently appear in late autumn and winter/early spring. 
Eastern Norway is known for tall and wild mountains and where about half of the Norwegian population lives in this region.
While central Norway is an area of history and heritage, salmon rivers and friendly people.
As for the southern region, it is a main summer attraction and is known for a rocky coastline and small beautiful villages with white wooden houses.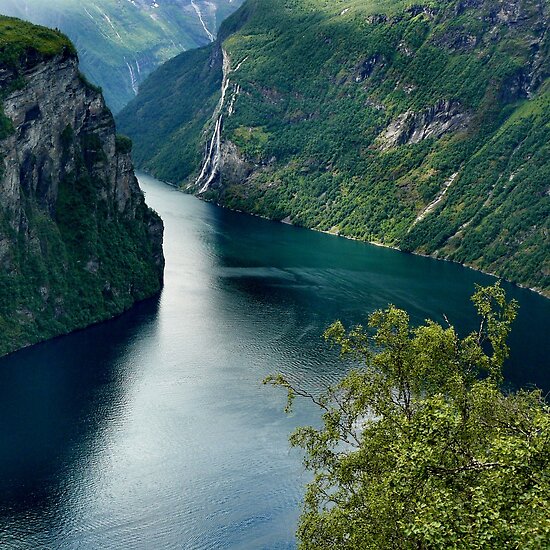 Although Norway is very famous with its nature wonders, it is a very rich and divers country; it has Twenty-one national parks provide nature lovers the opportunity to enjoy untouched nature. Norway 's glaciers stretch out their white caps across mountain tops, especially towards the west and northern areas of the country.
There are also 14 large fortresses along the coast of Norway Northern lights in addition to a lot of interesting churches, castles and beautiful buildings.
Oslo's Top Attractions
Akershus Fortress, located in the city centre by the Oslo Fjord.
Holmenkollen Ski Museum & Tower, a historic landmark in the Norwegian consciousness, Holmenkollen embodies more than a century of skiing tradition. Inside the actual ski jump is the Holmenkollen Ski Museum, the world's oldest museum specialising in skis and 4,000 years of skiing history.
The Natural History Museum includes several museums, the Botanical Garden and the greenhouses.
The Norwegian National Opera & Ballet is Norway's largest performing arts institution, with 650 employees working in about 50 professions and trades.
TusenFryd Amusement Park, it features dozens of spectacular rides, including SpinSpider, SpeedMonster, SuperSplash, Nightmare, and ThunderCoaster.
Speaking Heritage ; Urnes Stave Church in Luster, beside the Sognefjord, is on the prestigious UNESCO's World Heritage List. Altogether Norway has 28 stave churches.
Interested in exploring, you must know The Famous Polar explorer Roald Amundsen, who was the first man in history to reach the South Pole, on 14 December 1911.
A hint on traditional music, Fiddle music and dancing dominate the old Norwegian folk music tradition. The largest cities offer classical music festivals. The chamber music festivals in Oslo and Trondheim are recommended.
Transportation
Due to the low population density, narrow shape and long coastlines, public transport in Norway is less developed than in many European countries, especially outside the cities. As such, Norway has old water transport traditions.